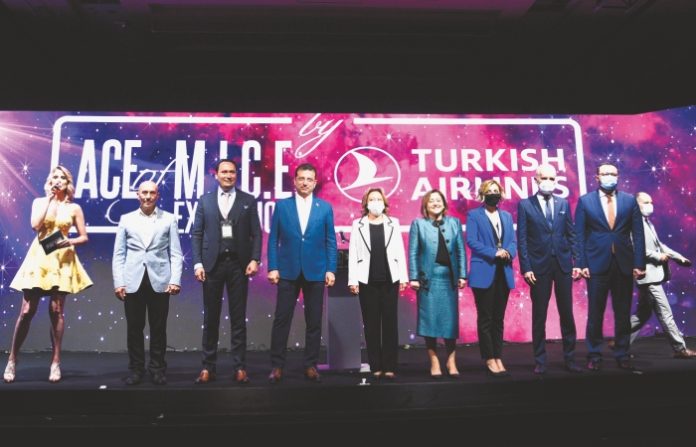 This gathering will make global M!CE participants aware of growth
made by Turkish industry.
MT Bureau
The ACE of M!CE exhibition is being organised under the sponsorship of Turkish Airlines. Since 2013, the exhibition is being organised every year. The event is being held in a strategic partnership with TURSAB and with support of Republic of Turkey's Ministry of Culture and Tourism, TGA, Istanbul Governorship, Istanbul Metropolitan Municipality, Istanbul Chamber of Commerce, TUROFED, TUROB, Antalya Promotion Foundation, and AKTOB.
ACE of M!CE Awards is the biggest award ceremony of the global M!CE industry which targets to guide the sustainable growth of congress, meeting, and event operations, to create a will of achieving perfection for industry companies and to increase the awareness of the Turkish M!CE industry on an international scale. The award ceremony has been moved to Antalya which is being held under the name of 'Master of Events by Ace of M!CE Awards,' held for the last nine years between 7 to 9 November, 2021.
Infinity Visual Fx Studio invites you to the event with its special concept and experience areas. The organisers are waiting for you to watch a magical hologramic opening show in the concept of Anti Gravity.  The United Nations (UN), Turkey and its partners are working collectively to achieve 17 ambitous goals as part of the sustainable development goals (SDGs). Based on these, various projects will be carried out by the brands within the framework of sustainable development. The companies will share their projects with the participants in about 40-minute individual sessions. It will help strengthen business relationships by meeting significant M!CE companies and buyers.
Within the scope of the international buyer programme, 90 international incentive companies, Professional Congress Organisers, destination management companies (DMCs), and corporate buyers to participate from the foreign market will hold B2B meetings with the participating companies.  Plans are afoot to hold the event in Cyprus within the scope of 'Masters of Events'.
AMEzing Party: Are you ready for the most ambitious party of the year? AMEzing Party will bring participants together for an unforgettable night with the concept of 'Fit Together'.